Some History of Kingswood
Some History of Kingswood
Handel Cossham was a British M.P. Colliery owner . Lay Preacher and Mayor of Bath, he was born in 1824 in the High St Thornbury. Cossham married Elizabeth Wethered and in Partnership with her family began Parkfield Colliery at Pucklechurch in 1851, as a caring employer he built Houses and a School for his workers .
In 1890 while at Parliament he was taken ill and died , an estimated 30,000 people lined the Streets on the day of his Funeral. His estate was substantial and when his Collieries were sold they raised in the region of £60,000. The Cossham Memorial Hospital is a Memorial to Handel Cossham. He instructed in his will that his estate be used to build the Hospital that people in Kingswood know so well.
Kemp Brothers' clock-makers of Union Street Bristol installed the clock at Kingswood, South Gloucestershire, (opposite) and it is still in perfect working order.
On 15th November 1899 Queen Victoria opened the Convalescent Home near the Downs later to become Bristol Maternity Hospital and now used as offices. As she sat outside in her carriage she pressed a button to open the Home and also to start the clock that had been made by Kemp Brothers. But the pressing of the button only rang the bell in the clock tower and it was one of the Kemp Brothers' clock-makers who actually set the clock going.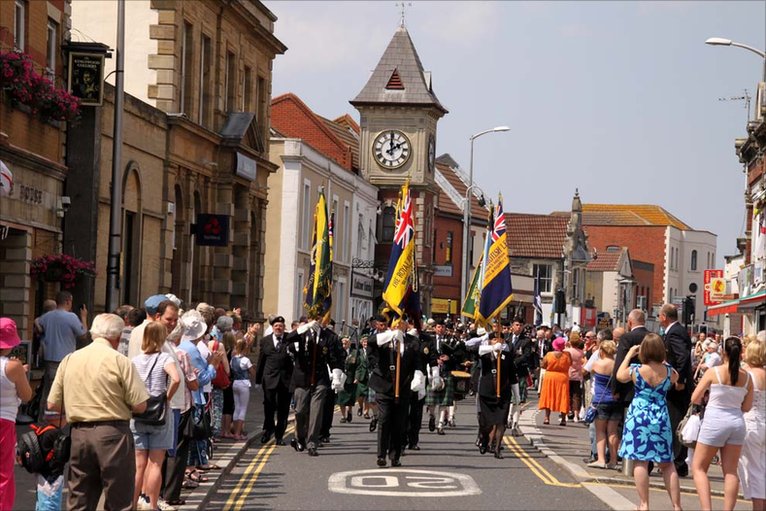 Another clock made by Kemp Brothers is in the Uriah Thomas Memorial at the top of Blackboy Hill. The original dial and hands of this memorial clock are still in place but the first mechanical movement has been replaced with an electric one. Other well known clocks made by the firm included the chime clock on the former Pro-Cathedral, continuing the early Kemp tradition of making, installing and servicing church tower clocks. The old Western Daily Press premises in Baldwin Street bore a Kemp Brothers clock dating from the days when few carried watches and relied on visible clocks on public buildings for their time keeping. Charles Hill's Dockyard was another such clock upon which a once vital area of the Bristol economy relied.
Some of the firm's clocks were also sent abroad, one was installed at Peking Railway Station in the early 1900s when the British and French ran the Chinese power and communications systems.